Master of Philosophy Course
Modelling of Materials
One Year, Interdisciplinary Course
Applications are invited from students with backgrounds in materials science, engineering, physics, chemistry, chemical engineering, biology, mathematics, statistics or computing.
A collaboration between the Materials Science and Metallurgy, Engineering and Physics Departments of the University of Cambridge, with contributions from manufacturing industry. The course is approved and financially supported by the Engineering and Physical Sciences Research Council of the United Kingdom.
Application Procedure
Applications are invited for the course beginning in October 2005. You are strongly encouraged to apply early in order to secure a place.

We are able to offer 2 studentships funded by the EPSRC, available to UK (fees and maintenance[currently 10 000 GBP per annum]) and EU Nationals (fees only).

Other sources of support may be available for well-qualified applicants. Applicants from overseas should consider applying for the sources of funding described in the Graduate Studies Prospectus and the new Cambridge Gates Scholarships

Download application form and prospectus (243 kbytes)

Course book
If you have any queries regarding the application procedure, please contact Dr Rosie Ward, Academic Secretary, Department of Materials Science and Metallurgy, University of Cambridge, Pembroke Street, Cambridge, CB2 3QZ, UK. Tel +441223 331955, Fax +44 1223 762088, email: remw2@msm.cam.ac.uk
Cambridge University aims to achieve excellence in teaching and research.
Purpose
Computational Materials Science is thriving in both industry and academia. There are now numerous examples of profitable commercial products resulting from the application of this type of research. Given that most technological problems cover many fields of expertise, the objectives of this course are as follows:
To provide a broad training in materials and process modelling.
To instil confidence in a variety of techniques covering the engineering scale down to the atomic dimensions.
To deal with materials as a whole.
To inspire teamwork and the ability to communicate.
To teach project design and management.
To engender the proper documentation and reporting of software and outcomes.
Course Contents
Further details can be obtained from the Course Director, Dr Zoe Barber zb10@cam.ac.uk
General methodology of modelling
Ab initio methods and approximations
Monte Carlo and molecular dynamics methods
Thermodynamics and phase diagrams
Mesoscale and multiscale modelling
Kinetics and microstructure modelling
Process modelling (including finite elements)
Information theory, pattern recognition and neural networks
Structure-property relationships
Integrated selection of materials and processes
Management, IPR and dissemination
Industrial Input
Manufacturing industry and government laboratories strongly support this course. Industrial participation will include identification of technologically important problems in the modelling area, leading, for example, to topics for the Team Work Projects and full participation in the more extensive Individual Research Projects.
Assessment
Course Component

---


Written examination on course work
Standard Credit **
Literature Survey
Team Work Project
Research Project

Credit

---


22%
12%
6%
10%
50%

**Standard Credit refers to credit given for completing set exercises, in the form of examples classes and computing.
Academic Staff
From the Materials Science and Metallurgy, Engineering and Physics Departments: Dr Z. Barber (Course Director), Professor H. K. D. H. Bhadeshia, Dr P. Bristowe, Dr R. Cameron, Dr D. Cebon, Professor T. W. Clyne, Dr J. Elliott, Dr S. Fitzgerald, Professor D. J. Fray, Professor A. L. Greer, Dr V. Kumar, Dr P. J. Hansip, Dr H. R. Shercliff
Class of 2003, 2004
| | | |
| --- | --- | --- |
| Class of 2003 | Class of 2004 | |
| | | |
Class of 2000, 2001, 2002
Class of 2000
Class of 2001
Class of 2002
Alcan Award, best student, Tom Illingworth, 2000
Alcan Award, best student, Chia Too, 2001
Rolls-Royce Award, best student, Katerina Plati, 2002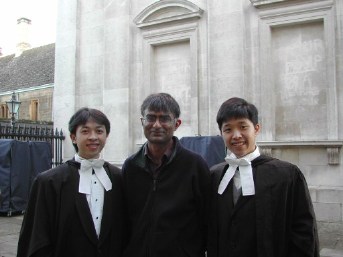 M.Phil. Degree award ceremony, November 2004