Memories of July Picnic, 2000
Marimuthu Murugananth, of Ananth for short, made sandwiches for this picnic. By popular demand, he has written the following recipe. Please keep this in the family.

Mushrooms (150 g) Green peas (1/2 tea cup) Potatoes - white (small sized 2 or 3) tomatoes (2)curd (3 tea spoons) (fat free or with fat) jeera (an indian spice) oil (3 tea spoons) Desicated coconut salt to taste.
Procedure:
Heat the pan, to dry water or moisture.
Put 3 tea spoons of oil and put some jeera and leave it till you see the jeera grow a little bigger than its actual tiny size.
Now put the mushrooms (chopped) and fry it till it becomes little brown. Lessen the flame of the burner or lessen the heat if it is a hotplate, otherwise the mushrooms would shrink making the recipie more watery.
Now add the chopped potatoes (cooked) , tomatoes and green peas, along with some grated or desicated coconut (this will reduce the water due to mushrooms).
Add the curd so that it adds some sourness to taste.After this add some salt to taste.
Your sandwich insert is now ready and you can use for making five sandwiches.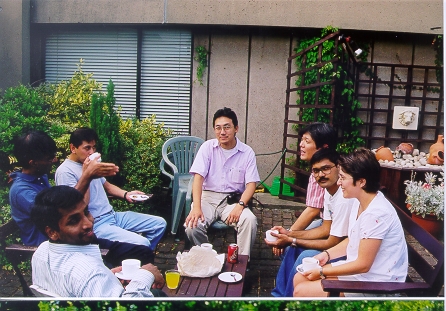 ---