Oxygen segregation to a grain boundary in molybdenum
A. R. Waugh and M. J. Southon
An imaging atom-probe field-ion microscope together with a time-of-flight spectrometer has been used here to show the spatial distribution of oxygen atoms at a grain boundary in molybdenum.
This picture shows field ion images of molybdenum and oxygen ions from a grain boundary in molybdenum, where oxygen has segregated. Most of the oxygen is located within a band 1 nm width at the grain boundary. The concentration of oxygen atoms at the boundary is about 1018 atoms per square metre. The segregation of oxgyen makes the boundaries in molybdenum brittle, leading to intergranular failure. For more details, see Waugh, A. R., and M. J. Southon. "Surface studies with an imaging atom-probe." Surface Science 68 (1977): 79-85.
Photographs courtesy of Dr Sally Waugh.
Ion spectra recorded on the time-of-flight spectrometer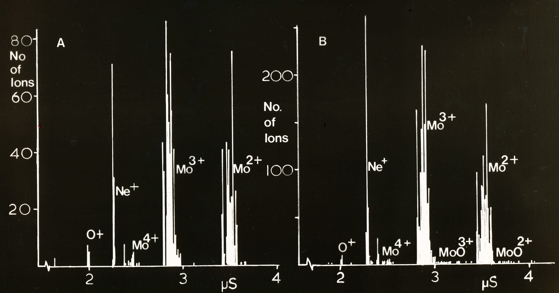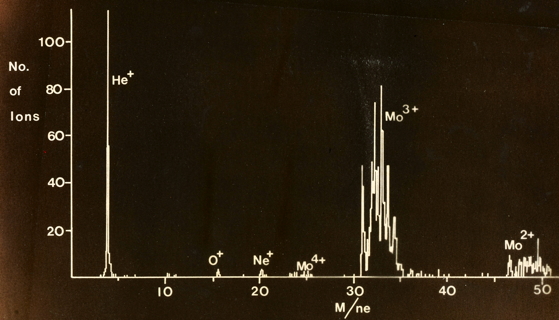 ---