---
Note: this appears no to function properly in the linux version
The procedure to draw a pseudo-ternary diagram is slightly different:
Copy the macro file to your working space:

cp /opt/mtdata/bin/trisect.mac ./

Open this file with your favorite text editor:

emacs trisect.mac

Replace the line where the system is defined (def sys 'KCl,CaCl2,ZnCl2' so d_1 !) by, for example:

def sy 'Fe,Cr,Ni' sou plus !
class absent p(*) no p(FCC_A1,BCC_A2) !

Edit temperature and pressure, in this example I set:

p = 101325.0 t = 873 !

Edit the lines setting the composition of the three corners:

set 'A' 1.0 0.0 0.0 !
set 'B' 0.75 0.25 0.0 !
set 'C' 0.75 0.00 0.25 !

These compositions are in weight percent, so we need to change the line set n 1 ! by:

set w 1 !

Save the changes.
In MTDATA, we can now start the calculation:
WHICH MODULE ? './trisect.mac'
APPLICATION OPTION ? compute !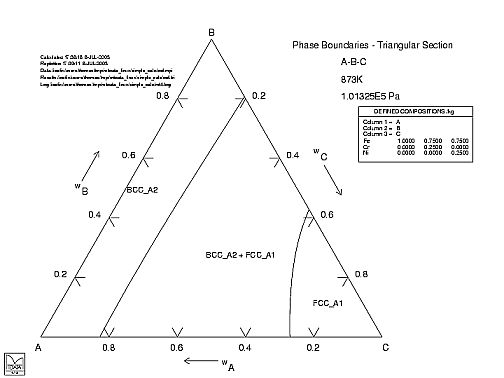 ---