Design of novel high-strength bainitic steels.
Part I

F. G. Caballero, H. K. D. H. Bhadeshia,
K. J. A. Mawella, D. G. Jones and P. Brown

Abstract
Mixed microstructures consisting of fine plates of upper bainitic ferrite separated by thin films of stable retained austenite have seen many applications in recent years. There may also be some martensite present although carbides are avoided by the judicious use of silicon as an alloying element. The essential principles governing the optimisation of such microstructures are well established, particularly that large regions of unstable high-carbon retained austenite must be avoided. With careful design, impressive combinations of strength and toughness have been reported for high-silicon bainitic steels. The aim of the present work was to see how far these concepts can be extended to achieve the highest ever combination of strength and toughness in bulk-samples subjected to continuous cooling transformation, consistent with certain hardenability and processing requirements. Thus, Part I of this study deals with the design, using phase transformation theory, of a series of bainitic alloys, given a set of industrial constraints.
Materials Science and Technology, , Vol. 17, 2001, 512-516.
Part 2 of this paper

Bainite in Steels, 2nd edition
Download PDF File (Part 1)
Download PDF File (Part 2)
Download PDF File (Parts 1 and 2 in Spanish)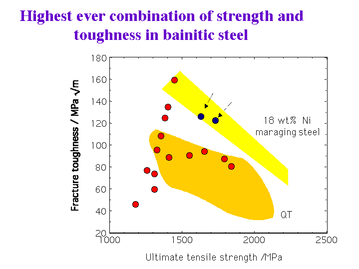 Diseño de nuevos aceros bainíticos de alta resistencia.
1a Parte

F. G. Caballero, H. K. D. H. Bhadeshia,
K. J. A. Mawella, D. G. Jones and P. Brown

Resumen
En los últimos años, las microestructuras formadas por placas de ferrita bainítica superior y películas delgadas de austenita retenida han sido empleadas para numerosas aplicaciones. Algo de martensita puede tambien haber en estas microestructuras, pero la presencia de carburos se evita gracias al juicioso uso del silicio como elemento de aleación. Los principios generales que goviernan la optimización de estas microestructuras están perfectamente establecidos, particularmente se sabe que la presencia de grandes bloques de austenita con alto contenido en carbono debe ser evitada por su inestabilidad. Con un diseño cuidadoso de estas microestructuras, ya se han publicado impresionantes combinaciones de resistencia y tenacidad para aceros bainíticos con alto contenido en silicio. El objetivo de este trabajo fue ver en que medida todos estos conceptos pueden ser aplicados para conseguir la más alta combinación de resitencia y tenacidad nunca alcanzada en muestras masivas, sujetas a transformación por enfriamiento continuo y considerando ciertos requisitos de templabilidad y procesado. Así, la primera parte de este estudio describe el diseño de una serie de aleaciones bainíticas, usando teoría de transformaciones de fase y considerando algunos requisitos industriales.
Materials Science and Technology, , Vol. 17, 2001, 517-522.
Part 2 of this paper

Bainite in Steels, 2nd edition
Download PDF File (Part 1)
Download PDF File (Part 2)
Download PDF File (Parts 1 and 2 in Spanish)