Design of novel high-strength bainitic steels.
Part II

F. G. Caballero, H. K. D. H. Bhadeshia,
K. J. A. Mawella, D. G. Jones and P. Brown

Abstract
A combination of thermodynamic, kinetic and mechanical property models and physical metallurgy principles was used in Part I of this study, to propose a number of alloys which exploit the carbide-free bainitic microstructure at its theoretical best. These alloys have been manufactured and the present paper (Part II) reports the results of metallographic characterisation and mechanical tests. The proposed steels are found to have the highest ever combination of strength and toughness for bainitic microstructures, matching even the maraging steels which are at least thirty times more expensive. The work confirms the alloy design procedures explained in Part I.
Materials Science and Technology, , Vol. 17, 2001, 517-522.
Part 1 of this paper

Bainite in Steels, 2nd edition
Download PDF File (Part 1)
Download PDF File (Part 2)
Download PDF File (Parts 1 and 2 in Spanish)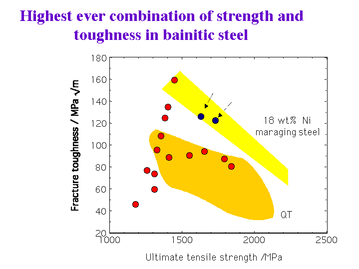 Diseño de nuevos aceros bainíticos de alta resistencia. 2a Parte

F. G. Caballero, H. K. D. H. Bhadeshia,
K. J. A. Mawella, D. G. Jones and P. Brown

Resumen
En la primera parte de este estudio se ha empleado la combinación de modelos termodinámicos, cinéticos y de propiedades mecánicas con principios fundamentales de metalurgia física para proponer un grupo de aleaciones que presentan teóricamente la mejor microestructura bainítica libre de carburos(Parte I). Estas aleaciones han sido fabricadas y en esta parte del trabajo (Parte II) se muestran los resultados de caracterización metalográfica y de ensayos mecánicos. Los aceros propuestos presentan la más alta combinación de resistencia y tenacidad jamás publicada, y propiedades similares a aceros treinta veces más caros, como los aceros maraging. Esta parte del estudio confirma que el procedimiento empleado en el diseño de estas aleaciones, y explicado en la primera parte de este trabajo, es satisfactorio.
Materials Science and Technology, , Vol. 17, 2001, 517-522.
Part 1 of this paper

Bainite in Steels, 2nd edition
Download PDF File (Part 1)
Download PDF File (Part 2)
Download PDF File (Parts 1 and 2 in Spanish)