Tools for Friction Stir Welding
R. R. Rai, A. De, H. K. D. H. Bhadeshia and T. DebRoy
Abstract
Friction stir welding (FSW) is a widely used solid state joining process for soft materials such as aluminium alloys because it avoids many of the common problems of fusion welding. Commercial feasibility of the FSW process for harder alloys such as steels and titanium alloys awaits the development of cost effective and durable tools which lead to structurally sound welds consistently. Material selection and design profoundly affect the performance of tools, weld quality and cost. Here we review and critically examine several important aspects of FSW tools such as tool material selection, geometry and load bearing ability, mechanisms of tool degradation and process economics.
Science and Technology of Welding and Joining, 16 (2011) 325-342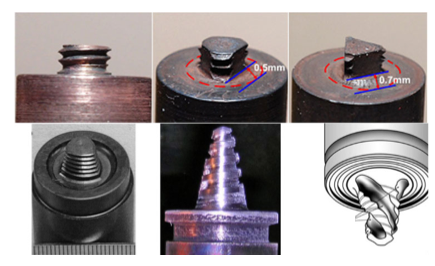 The following photographs from PTG Heavy Industries illustrate the different types of pin geometries used in their Powerstir Friction Stir Welders:










In excess of 40 different types of welding tool have been developed for thin walled structures, heavy & thick walled structures, self-adaptive bobbin tools, standard bobbin tools and retracting pin FSW tooling.

On-going development work has resulted in a series of welding tools capable of jointing a wide range of materials, in particular: aluminium alloys, magnesium alloys, copper alloys, titanium alloys and steels.




---