Celebration of Jae Hoon Jang's Acta Award
Jae Hoon Jang, advisor, Prof. Dong-Woo Suh, wins Acta Materialia Student Award for the paper "Stability of (Ti,M)C (M=Nb, V, Mo and W) carbide in steels using first-principles calculations," Acta Materialia, 60 (2012), 208-217.


See Korean television report.
The first celebration was a meal at the Namashkar Indian and Nepalise food restaurant in Pohang.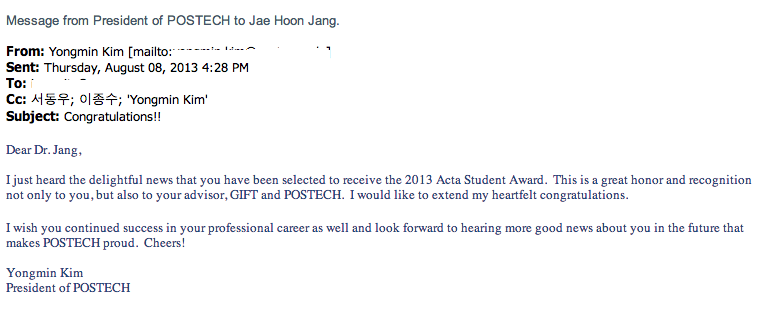 | | |
| --- | --- |
| Mangos, allegedly to boost performance at squash, provided by arch rival Dong Woo Suh | Jun Hak Pak joins the CML team once again |
| Jae Hoon Jang on the right, the winner extraordinaire | Nirupam Chakraborti is CML Visiting Professor at GIFT for one year |
| | |
| Hong-Seok Yang and Jun Hak Pak, who completed their Ph.D. projects in CML some time ago, are now captains of industry, and joined us for Jae Hoon's celebration dinner | Choi, Yong Hoon, on the far left, is an intern who has just qualified to start a Masters course in GIFT. Do Kyeong Han at the far right end has successfully interviewed for beginning his Ph.D. project |