Estimation of the amount of retained austenite in austempered ductile irons
M. A. Yescas-Gonzalez, H. K. D. H. Bhadeshia and D. J. C. MacKay

Abstract
Many of the properties of austempered ductile iron depend on the austenite which is retained following the bainite reaction. A neural network model within a Bayesian framework has been created using published data to model the retained austenite content. The model allows the quantity of retained austenite to be estimated as a function of the chemical composition and heat treatment parameters. The computer programs associated with the work have been made freely available.
Materials Science and Engineering A, Vol. A311, 2001, 162-173.
Download PDF File This file is reprinted from Materials Science and Engineering with permission from Elsevier Science. Single copies of the article can be downloaded and printed for the reader's personal research and study.
More information on cast irons
Bainite in Steels, 2nd edition
Estimación de la cantidad de austenita retenida en hierro nodular austemperizado usando redes neuronales.

Resumen
Muchas de las propeidades del hierro nodular austemperizado dependen de la austenita la cual es retenida después de la reacción bainítica. Un modelo de redes neuronales en un ambiente bayesiano fué creado utilizando datos publicados para estimar la cantidad de austenita retenida. El modelo predice la cantidad de austenita retenida en función de la composición química y el tratamiento termico. El programa asociado al modelo desarrollado se ha hecho disponible para su uso.

Library of micrographs showing details of the optical microstructure.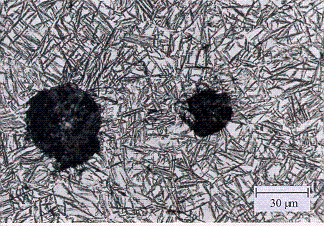 Microstructure of austempered, ductile cast-iron. Retained austenite (light background), bainitic ferrite (dark shaves) and nodules of graphite.
Bainitic Phase Transformations